Outbreak in West Africa
Doctors Without Borders/Médecins Sans Frontières (MSF)'s response to the largest Ebola outbreak in history began more than 16 months ago in March 2014.
Since then, 11,276 lives have been lost and 27,678 people have been infected — and despite progress made in the fight against the virus, Ebola stubbornly lives on in Guinea, Sierra Leone and Liberia. In recent  weeks, the number of cases in the region has stagnated at around 30 new infections per week, a number that would be considered a disaster in normal circumstances.
Canada's Dr. Joanne Liu, MSF's international president, recently declared: "We have seen so many reports calling for change, with everyone focused on how to improve future responses to outbreaks and meanwhile, with new Ebola cases each week in the region, we still don`t have the current epidemic under control. On Ebola, we went from global indifference, to global fear, to global response and now to global fatigue. We must finish the job."
'We cannot lose focus now'
MSF recently released Pushed to the Limit and Beyond: A Year Into the Largest Ever Ebola Outbreak, a report looking at the global response to the West African Ebola epidemic.
"Going from hundreds of cases to 30 per week took considerable time and massive resources, yet getting from 30 to zero requires the most meticulous, difficult work of all," said Dr. Liu. "No one was prepared for the scale of this epidemic, the largest in human history, nor that it would last so long. But we cannot lose focus now and must push on until the entire region is declared Ebola-free." 

MSF Ebola activity update, July 17, 2015:
MSF currently employs 92 international and 1,760 local staff in Guinea, Liberia and Sierra Leone, and has cared for 9,626 people, including 5,149 confirmed to be infected with Ebola since March 2014. 
Guinea  
In Guinea, active chains of transmission persist in Conakry, Boké and Forecariah. "We still have about 12 to 18 cases of Ebola per week in Guinea," says Anna Halford, MSF's emergency coordinator in Guinea.  "Ebola cases continue to go undetected for too long, with 25 per cent of positive cases identified after death in their communities in the past three weeks."
In Conakry, MSF has moved from its previous Ebola management centre in Donka to a new facility in Nongo and is continuing outreach activities across the city in order to combat rumours, fear and fatigue. "We are aware everyone is tired. The national authorities are tired — they have been working on this non-stop and they just want the outbreak to end. The people of Guinea are tired of the uncertainty and fear, "says Halford. "After more than a year of responding to Ebola, we too are tired but the outbreak is not over and we cannot let up until we reach zero."
In MSF's Nongo facility, patients have the option to receive plasma donated by survivors of Ebola which, after a trial enrolling 101 patients over the past few months, has been shown to have no ill effects. The results of plasma's efficacy are not yet publicly available but hopefully will be released by the researchers in the coming weeks.
In response to the recent outbreak in Boké in northern Guinea, MSF opened an Ebola management centre on July 3. The cluster is worrying given the risk of further geographic spread into neighboring Guinea-Bissau.
In Guinea-Bissau, MSF is helping prepare for the possibility of an imported case, by facilitating the training of health staff and prepositioning supplies for an Ebola response.
On the occasion of the commemoration of the first year anniversary of the Ebola outbreak in Guinea, MSF and the prefectural authorities paid tribute to all those who fought against Ebola by unveiling a commemorative plaque and planting a mango tree.
Liberia
Sadly, after being declared Ebola-free on May 9, following 42 days with no new infections, Liberia is again recording cases of Ebola. "Though disappointing, the re-emergence of Ebola in Liberia is not altogether unexpected," says Carissa Guild, the medical manager for MSF programs in Liberia. "The risk of new cases still exists as long as the virus is present in the region."
The virus was detected in the swab of a deceased 17-year-old boy on the outskirts of the capital Monrovia, and has since spread to five other people. "These new cases show that vigilance is still key across the region, even in areas declared Ebola-free. We cannot relax until Ebola has been stamped out in all three countries" says Guild.
At this time MSF is not directly involved in the patient care or investigation of the new cases, but remains ready to support the Ministry of Health should they require it. For now, MSF is running a 69-bed pediatric hospital in Monrovia to help restore the secondary health system — which, like those in Guinea and Sierra Leone, has been paralyzed following the deaths of hundreds of health workers. On the grounds of the hospital, MSF also runs a clinic specifically for Ebola survivors who suffer from a number of health complications following their recovery from the virus.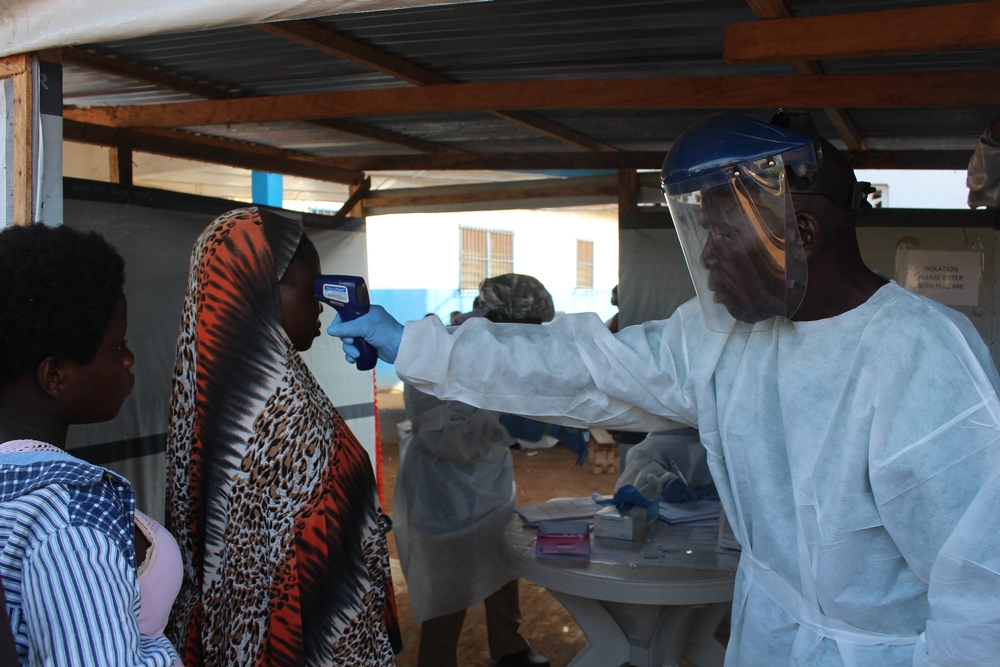 Routine temperature checks continue unabated in health facilities in Liberia despite the end of the Ebola epidemic.
Sierra Leone
In Sierra Leone, the number of Ebola cases continues to fluctuate, with 14 cases recorded in the past week and hot spots persisting in Western Area (Freetown), Port Loko and Kambia districts.
Freetown has seen a recent flare of Ebola, with 10 confirmed cases recorded in Western Area last week, the highest weekly total since March. MSF has been running an Ebola Maternity Centre in Hastings, with specific obstetric services for Ebola-positive pregnant women in need of specific care. However, as other Ebola management centres in the city are reaching capacity, the Ebola Maternity Centre is now also taking in non-pregnant suspect and confirmed Ebola cases, with six patients currently admitted.
Also in Freetown, MSF teams are focusing on outreach and surveillance activities and are working in collaboration with the District Ebola Response Committee, who respond to new cases and follow up contacts throughout the 21-day Ebola incubation period.
"It is essential that any suspect case is followed up with a coordinated response, including thorough case investigation and the identification and follow up of contacts for 21 days," says Jose Hulsenbek, MSF's head of mission in Sierra Leone. "Throughout this process, engaging the community is the key to success in breaking the transmission of the disease."   
In Bo District, MSF continues to operate an Ebola Management Centre, covering the south-eastern part of the country. Though no positive cases have been seen for some months, the centre receives suspected Ebola patients each week as part of the ongoing need for proper surveillance. The team also visits neighbouring districts to monitor surveillance activities.
With no patients for the last two months, MSF's Ebola management center in Magburaka has been closed. However a small team remains in Magburaka and is in the process of opening a clinic offering health services to Ebola survivors.
"It is clear that the work to improve healthcare in Sierra Leone will not end with the epidemic, "says Hulsenbek. "Even before Ebola, Sierra Leone suffered from an acute shortage of skilled staff, with limited access to key life-saving services. After the loss of more than 220 health workers to Ebola, there is a real need, not for just funding and promises, but for skilled clinicians on the ground across the country."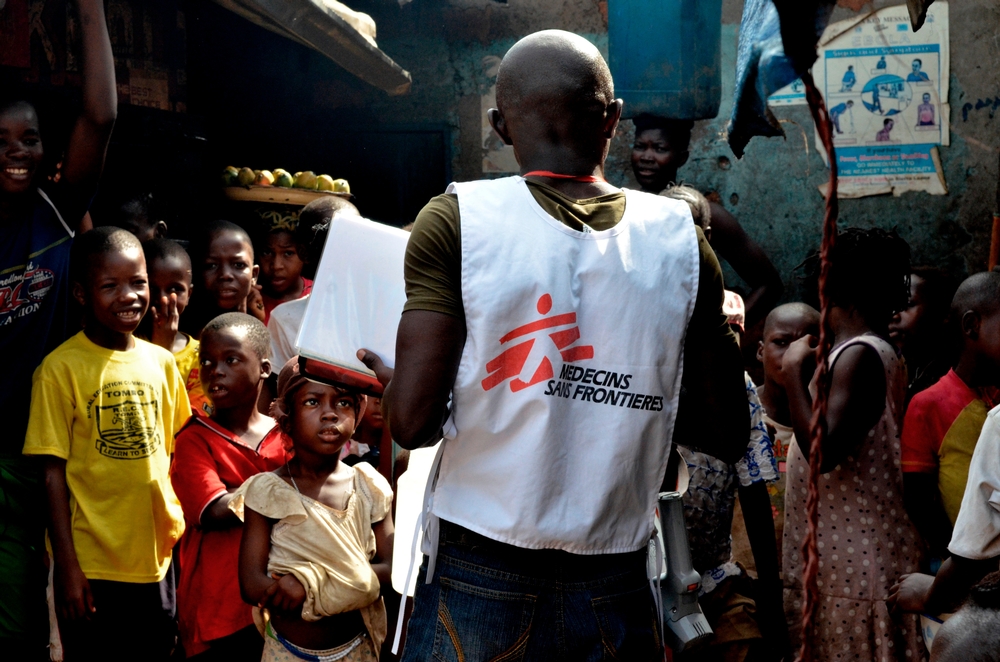 MSF health promotion teams in Freetown, the capital of Sierra Leone, explain to members of the community how to prevent and recognize the symptoms of Ebola.

How MSF treats Ebola patients: medical protocols
Follow the link below to read a Q&A with MSF public health specialist Dr. Armand Sprecher, who describes the clinical protocols MSF has used and adapted during its response to the West African Ebola outbreak:
Eyewitness: Ebola
Reine Lebel, a Canadian psychologist, talks about her work with Ebola patients. 
Interactive Guide to an Ebola High Risk Zone
How do MSF's Ebola treatment centres work? Click on the image below to visit an interactive guide. (Enlarge)
Ebola: the basics
Ebola refers to several strains of the same virus, first identified in humans in 1976 in Sudan and Democratic Republic of Congo (DRC), along the Ebola River. Ebola viruses produce devastating illnesses, most often leading to death. They cause hemorrhagic fevers, which lead to internal and external bleeding, similar to Marburg fever, which results from a related virus.  There is no treatment and no vaccine.
Certain species of bats living in the tropical forests of Central and West Africa are thought to be Ebola's natural reservoir. While they carry viruses, they show no symptoms and appear to contaminate large monkeys and humans through their droppings or bites. Humans can also catch the virus after contact with infected animals, dead or living, or from other infected persons.
Before the most recent epidemic in West Africa, the most recent outbreaks killed several dozen people in Uganda and DRC in 2012. Although it is very dangerous, Ebola remains rare. Before 2014, approximately 2,200 cases had been recorded following the discovery of the virus in 1976. Of those, 1,500 were fatal. However, sporadic cases and, even epidemics are known to have gone undetected in the past because they occurred in remote areas where people lacked access to medical care. The 2014 West African epidemic has already been responsible for more deaths than all previous outbreaks put together.
Dr. Esther Sterk specializes in tropical diseases at Médecins Sans Frontières (MSF). She has worked on many missions, including several Ebola epidemics in Uganda and DRC, most recently in summer 2012.

What are Ebola's distinctive features?
This is a rare disease. Epidemics are limited, but they create panic every time because Ebola is fatal in 25 to 90 per cent of cases. After an incubation period of two to 21 days, the virus causes a raging fever, headaches, muscle pain, conjunctivitis and general weakness. The next phase involves vomiting, diarrhea and, sometimes, a rash. The virus spreads in the blood and paralyzes the immune system. It is particularly formidable because the body does not detect these viruses right away. When the organism does respond, it is often too late. By then, the viruses have created blood clots, which block vital organs and cause major hemorrhages. Patients may have heavy bleeding, including from the nose or via their urine.  
The disease is transmitted by contact with the fluids of infected people or animals, such as urine, sweat, blood or mother's milk. Family members and healthcare workers treating patients are at great risk of infection. The high mortality rate and bleeding are so frightening that healthcare workers often flee, abandoning patients.
Funeral traditions in which family members wash the body of the deceased are also a major means of transmission in African communities.
How does MSF respond to Ebola epidemics, given that there is no treatment?
Although there is no cure for this disease, we can reduce its very high mortality by addressing the symptoms. This includes administering a drip to patients who have become dehydrated from diarrhea and by confirming that they do not have a different disease, such as malaria or a bacterial infection like typhoid. Vitamins and pain medication can also be useful. When the person loses consciousness and bleeds copiously, there is no hope.  At that point, we ease the patient's pain and stay with him until the end.
Once the first case is confirmed by a blood test, every person who cares for an infected patient must wear a hazardous materials ('hazmat') suit, gloves, a mask and protective goggles and exercise extreme caution when administering treatment. Decontamination chambers are generally installed between the isolated patients and the external environment. To confine the epidemic, it is critical to trace the entire transmission chain. All individuals who have had contact with patients who may be contaminated are monitored and isolated at the first sign of infection.  The affected communities must also be informed about the illness and the precautions to be taken to limit risks of contamination. Basic hygiene – such as washing one's hands – can significantly reduce the risk of transmission.
In recent years, MSF has been involved in nearly every Ebola epidemic.
What are the prospects for the fight against Ebola?
Although several countries are interested in it in connection with protecting against bacteriological warfare or bioterrorism, the research is limited. The small number of epidemics and patients restricts the investigations. To develop vaccines, you need a sufficient number of volunteers. Research is also underway on the origin of the virus and on bats, Ebola's likely natural reservoir.
In recent years, MSF has been involved in nearly every Ebola epidemic. Other organizations have also been present, but we can provide our experience in treating cases. Considerable materiel is often required to isolate patients and prevent contamination among healthcare workers. We are also trying to improve our response to these epidemics. That is the key to success. You've got to act as quickly as possible as soon as the first case is confirmed. The challenge is that Ebola occurs in isolated areas and it takes time to identify the disease and alert the health authorities. In addition, the early symptoms resemble those of malaria. We are training healthcare workers so that they can respond quickly.
The Boy Who Tricked Ebola
Mamadee is an eleven-year-old patient in Liberia who survived Ebola
Ebola: Medical information
If contracted, Ebola is one of the world's most deadly diseases. It is a highly infectious virus that can kill up to 90 percent of the people who catch it, causing terror among infected communities.
Médecins Sans Frontières/Doctors Without Borders (MSF) has treated thousands of people with the disease and helped to contain numerous life-threatening epidemics.  
The Ebola virus was first associated with an outbreak of 318 cases of a haemorrhagic disease in Zaire (now the Democratic Republic of Congo) in 1976. Of the 318 cases, 280 died — and died quickly. That same year, 284 people in Sudan also became infected with the virus, killing 156.The Ebola virus is made up of five species: Bundibugyo, Ivory Coast, Reston, Sudan and Zaire, named after their places of origin. Four of these five have caused disease in humans. While the Reston virus can infect humans, no illnesses or deaths have been reported.MSF has treated hundreds of people affected by Ebola in Uganda, Republic of Congo, the Democratic Republic of Congo (DRC), Sudan, Gabon and Guinea.In 2007, MSF entirely contained an epidemic of Ebola in Uganda.
Causes of Ebola
Ebola can be caught from both humans and animals. It is transmitted through close contact with blood, secretions, or other bodily fluids.Healthcare workers have frequently been infected while treating Ebola patients. This has occurred through close contact without the use of gloves, masks or protective goggles.
In areas of Africa, infection has been documented through the handling of infected chimpanzees, gorillas, fruit bats, monkeys, forest antelope and porcupines found dead or ill in the rainforest.Burials where mourners have direct contact with the deceased can also transmit the virus, whereas transmission through infected semen can occur up to seven weeks after clinical recovery.
Symptoms of Ebola
Early on, symptoms are non-specific, making it difficult to diagnose.The disease is often characterized by the sudden onset of fever, feeling weak, muscle pain, headaches and a sore throat. This is followed by vomiting, diarrhoea, rash, impaired kidney and liver function and, in some cases, internal and external bleeding.Symptoms can appear from two to 21 days after exposure. Some patients may go on to experience rashes, red eyes, hiccups, chest pains, difficulty breathing and swallowing.
Diagnosing Ebola
Diagnosing Ebola is difficult because the early symptoms, such as red eyes and rashes, are common.Ebola infections can only be diagnosed definitively in the laboratory by five different tests.Such tests are an extreme biohazard risk and should be conducted under maximum biological containment conditions. A number of human-to-human transmissions have occurred due to a lack of protective clothing. 
"Health workers are particularly susceptible to catching it so, along with treating patients, one of our main priorities is training health staff to reduce the risk of them catching the disease whilst caring for patients," said Henry Gray, MSF's emergency coordinator, during an outbreak of Ebola in Uganda in 2012."We have to put in place extremely rigorous safety procedures to ensure that no health workers are exposed to the virus – through contaminated material from patients or medical waste infected with Ebola."
Treating Ebola
No specific treatment or vaccine is yet available for Ebola.Standard treatment for Ebola is limited to supportive therapy. This consists of hydrating the patient, maintaining their oxygen status and blood pressure and treating them for any complicating infections.
Despite the difficulty of diagnosing Ebola in its early stages, those who display its symptoms should be isolated and public health professionals notified. Supportive therapy can continue with proper protective clothing until samples from the patient are tested to confirm infection.
An Ebola outbreak is officially considered at an end once 42 days have elapsed without any new confirmed cases.
Fighting Ebola with music
Support for MSF's work in the fight against Ebola has included the efforts of some musicians from West Africa. In November, an all-star group of African recording artists released "Africa Stop Ebola," a charity single to raise awareness about the disease, announcing that all proceeds from the sale of the song in Europe were to be donated to MSF. 
In Liberia, meanwhile, a group known as the Talented Young Brothers recorded "Ebola is Real," a song written to help MSF conduct health promotion visits and to teach communities about how to reduce the threat of transmission of the Ebola virus.