With massive unmet needs inside Syria, MSF should be running some of the biggest operations in its history, but the scale of the violence and the fast-moving nature of the conflict mean that the work of MSF inside Syria is limited. Following the abduction and release of MSF staff in 2014, the extremely difficult decision was taken to close projects and stop support activities in areas controlled by the Islamic State (IS) group. MSF has sought high-level assurances from the leadership of the IS group that staff and patients will not be harmed, but these assurances have not been forthcoming which means that large swathes of the country  — and the people living there — are out of our reach. MSF has also been unable to date to receive permission from the government of Syria to work in areas it controls, again meaning millions of people are out of reach of hands-on assistance from any external aid provider.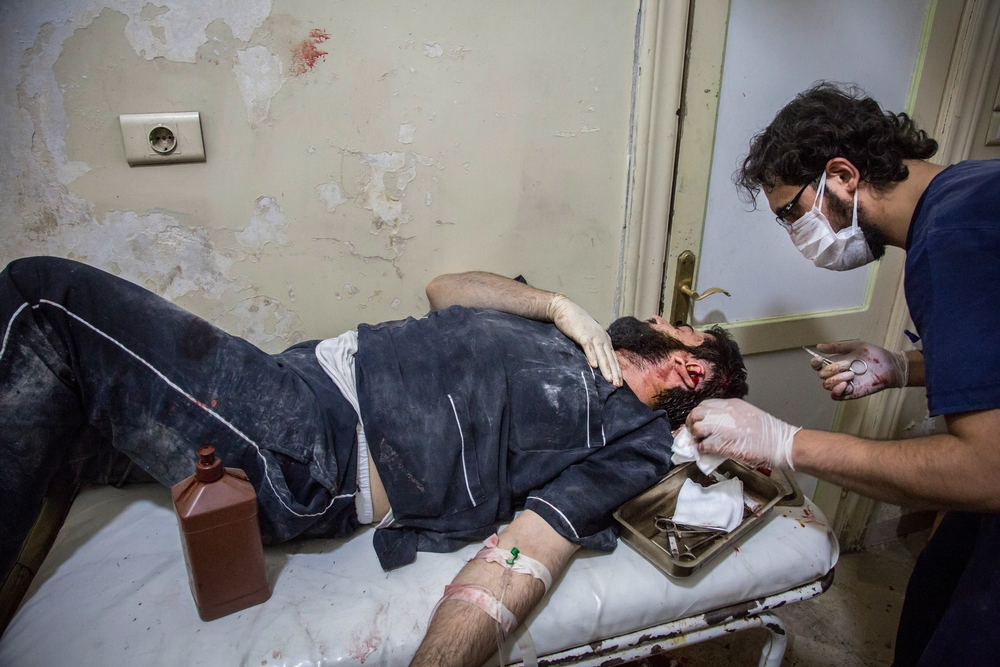 A doctor stitches the ear of a man injured in airstrikes on Bab Al Nayrab district, east Aleppo.
From the November 28, 2016, MSF Crisis Update:
Despite the extent of the crisis and people's needs, MSF is significantly constrained in its presence and medical activities in Syria, mainly due to insecurity but also due to a lack of agreements and authorizations. These constraints are as present today as they were a year and a half ago. To this date, the Syrian government has not granted us authorization to work in the country.
MSF nevertheless continues to directly operate six health facilities in the north of Syria, and puts significant energy into providing the best possible support to more than 150 health facilities countrywide, in areas where MSF cannot be directly present.
MSF teams also work in the countries neighbouring Syria, providing assistance to refugees and host communities.
The humanitarian situation
After five and a half years of intense conflict, the situation in Syria keeps deteriorating, with ever-increasing unmet needs and suffering. It is estimated that 4.8 million people have fled the country, and another 6.5 million people are internally displaced (source: OCHA). This represents nearly 50 per cent of the total population. 
The humanitarian system is failing in Syria. Assistance, including access to food and medical supplies, remains appallingly insufficient. The pervasive daily reality for many people in Syria is one of fear, deprivation, and a struggle to survive. Through many parts of the country access to medical care is dire due to a crumbling health system. Many hospitals are facing critical supply shortages, and there are ever-diminishing numbers of health workers, as medics have fled or been killed.  From the beginning of the conflict medical staff and medical facilities have been targeted.
Aleppo is in an exceptionally critical situation at the moment. In east Aleppo city where MSF carries out remote support to medical facilities, an estimated 250,000 people are militarily encircled and a full siege is in operation, starving the population of the basics required for survival, such as food, medical supplies, and fuel to pump water and generate electricity. Furthermore, civilian areas and hospitals are being routinely hit in targeted or indiscriminate bombing and shelling. Attacks by opposition groups occur in west Aleppo which is government controlled but we do not have support programmes there due to a lack of authorisation,  hence we do not have any information on the situation other than what is in the media.
Even those people who manage to flee the fractured front lines or besieged areas and reach the border are finding it increasingly difficult or at times impossible to seek refuge abroad. Border restrictions and closures are forcing people to return to the places in Syria they have fled or to camp out in the desert with no facilities or resources, at risk of violence, disease and hunger. This is the case for example in the berm where 75,000 Syrians are stranded between the Syrian and Jordanian borders.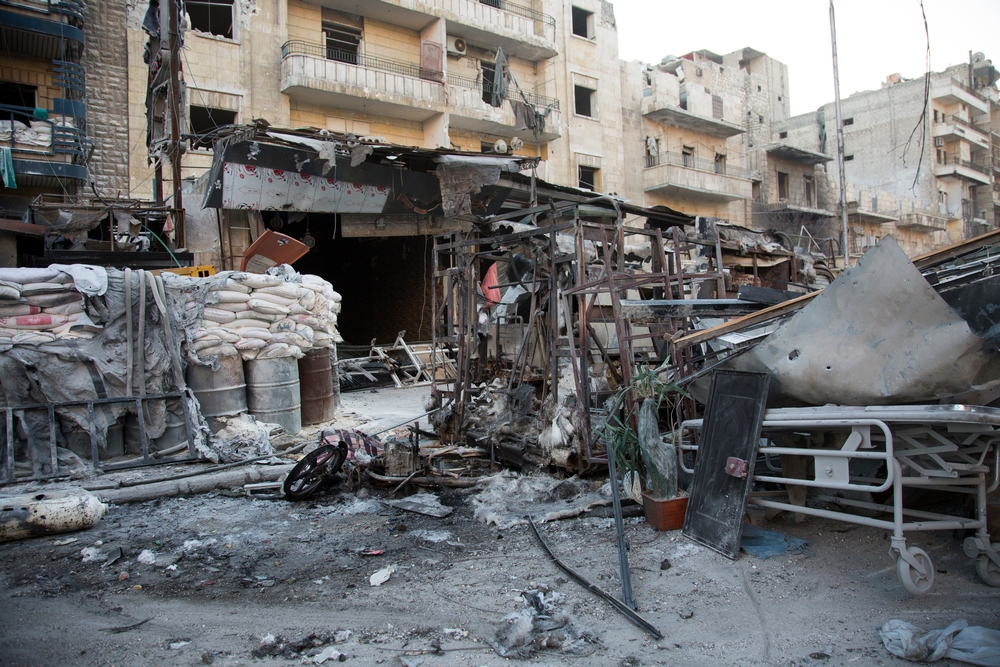 The aftermath of an attack on one of the key surgical hospitals in east Aleppo during airstrikes on 17 November 2016. The damage was so extensive that the hospital was forced to go out of service immediately. The hospital had an emergency room, an intensive care unit and a number of operating theatres providing orthopaedic and general surgery. 
The bombing of hospitals
Since the siege began in east Aleppo city in July 2016, functioning hospitals have been damaged in over 35 separate attacks. Some hospitals have been hit multiple times and have been forced to close as a result.
Most recently, multiple hospitals were hit by airstrikes from 16 November onwards, one day after airstrikes were relaunched on the opposition-held area of the city. Some hospitals came under attack more than once. Among those hit and taken out of service was a children's hospital, two key hospitals specializing in surgery and the largest general hospital. The pediatric hospital that was hit was the only specialized hospital for children in the besieged area. Hospital staff managed to move children, including premature babies, from cots and incubators to the basement of the building to shelter from the bombing. Both hospitals that were hit are supported by MSF, among other organisations.
Outside east Aleppo, hospitals supported by MSF have also been hit by bombing or shelling. Recent examples include:
In one week in October, four MSF-supported hospitals around Damascus were bombed or shelled.
18 October - Eman specialty hospital in Idlib governorate was hit in an airstrike that injured four medical staff and lead to the full suspension of the hospital's activities. The hospital provided services for a population of 35,000, including 25,000 internally displaced people.
3 November - Al Baghdad hospital in Aleppo governorate was hit by an airstrike. While no casualties were reported, the services were partially suspended, affecting around 120,000 people.
11 November - An MSF-supported hospital in Hama governorate was hit and heavily damaged in an airstrike, leaving the hospital non-operational. The hospital provided stabilization, maternity and surgical services, antenatal care, and had an inpatient and outpatient department. It catered to a host population of around 16,600 people, including 1,600 internally displaced people.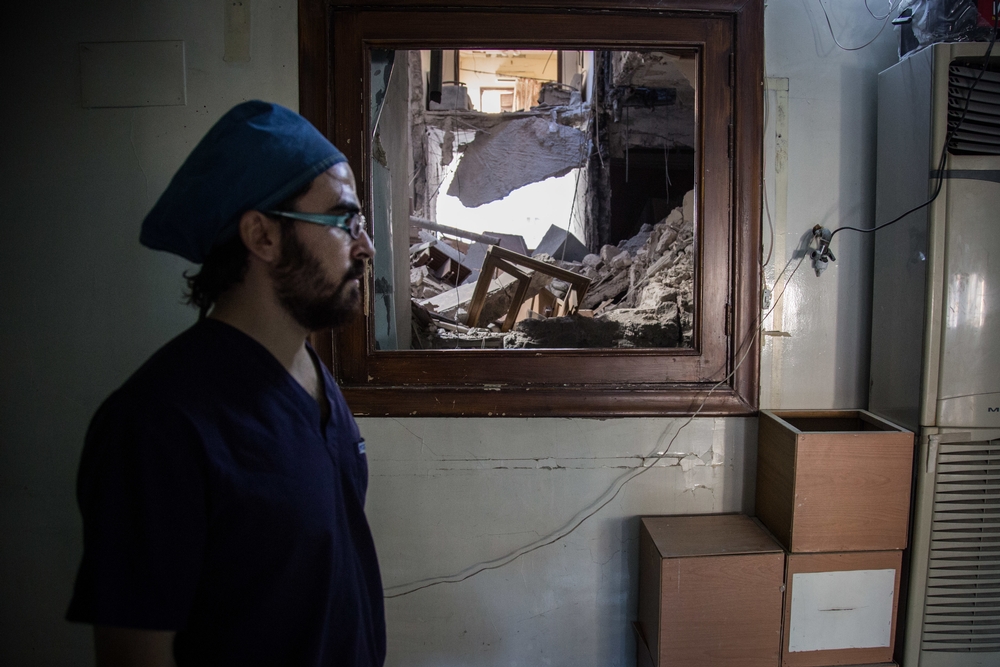 Dr. Abu Wasim, a surgeon, stands next to a damaged ward on the upper floors of a hospital in East Aleppo, Syria, after it was hit by an airstrike in mid-October 2016. He is one of seven surgeons left in East Aleppo.
Recent stories:
Matching funds
MSF requires complete independence and neutrality in situations of conflict in order to gain medical access to people who are living on all sides of a conflict. We maintain our neutrality and independence by privileging donations from the public. As MSF has several programs providing medical care to people affected by Syria's conflict, we are not able to participate in the Canadian government matching fund. We are, however, gratefully accepting the generous donations of our private donors, whose support will allow us to continue to deliver critical medical care to people affected by the conflict while maintaining our independence and neutrality.

Related News & Publications