South Sudan has been engulfed in a humanitarian crisis since a violent civil conflict began in late 2013. Médecins Sans Frontières/Doctors Without Borders (MSF) is one of the largest medical and humanitarian aid providers in South Sudan, with more than 3,500 staff across the country, as well as projects in Ethiopia and Uganda serving South Sudanese refugees.
At present, MSF operates projects in six of the ten states of South Sudan, including in Unity, Upper Nile and Jonglei, where the conflict has taken a particularly heavy toll on the population. MSF also runs activities in the Abyei administrative area. Teams are responding to various health needs, including surgery, obstetrics, malaria, kala azar, vaccinations and malnutrition.
Renewed violence has put many of these activities at risk. MSF calls on all parties to respect medical facilities, to allow aid organizations access to affected communities, and to allow patients to receive medical treatment irrespective of their origin or ethnicity.
South Sudan: Urgent humanitarian assistance needed for thousands of people who fled fighting in Wau Shilluk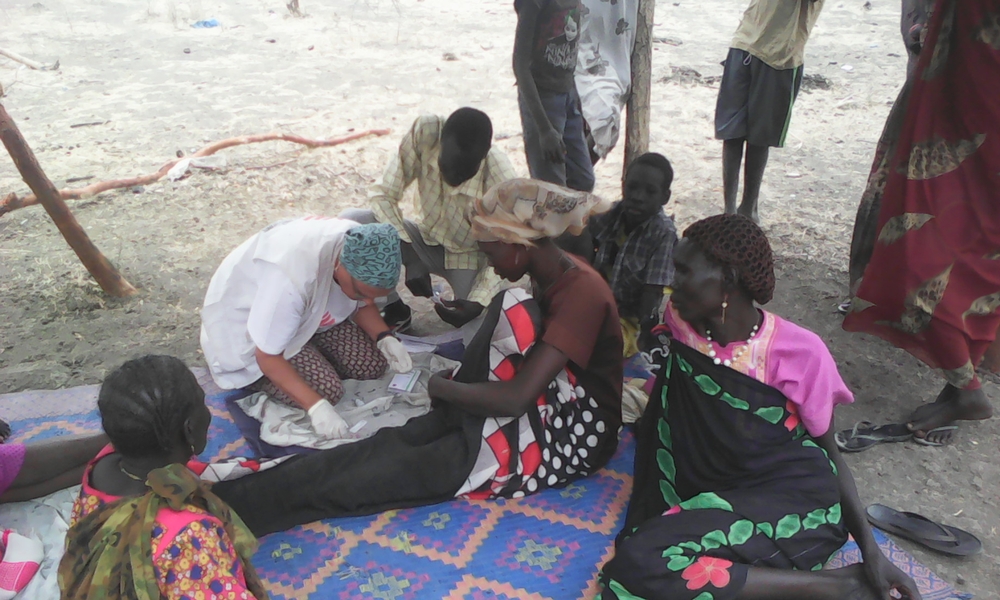 Over the last weeks, fighting in the Greater Upper Nile region has left the town of Wau Shilluk deserted, and now thousands of vulnerable people who fled the violence are in urgent need of humanitarian assistance.
Until recently, Doctors Without Borders/Médecins Sans Frontières (MSF) ran a hospital in Wau Shilluk, but when the fighting approached, the organisation was forced to evacuate the facility. MSF has now launched an emergency medical operation to support the thousands of displaced persons settled north of the town of Kodok, in Aburoch, and in the more sparsely populated areas south of the town.
In recent weeks, MSF teams have encountered extremely high levels of malnutrition and have launched an emergency response to treat malnourished children in South Sudan. The country's protracted conflict is having a profound effect on the local population, MSF says. Men, women and children are regularly forced to flee their homes to escape fighting, and struggle to access essentials, including food, water and healthcare. 
"The extreme level of violence has had a severe impact on people's ability to meet basic needs such as safe drinking water, food supplies, shelter and healthcare," says MSF project coordinator Nicolas Peissel. "People have lost everything and struggle every day to survive."
'As the population moves, our staff goes with them': Finding ways to deliver care amid South Sudan's conflict and displacement
In the central part of South Sudan, people are constantly being forced to flee the shifting front lines of the country's ongoing civil war. After one of its hospitlas was repeatedly attacked, MSF realized it needed new ways to provide people in Leer and Mayendit counties with medical care. An MSF doctor describes how her team of local staff is providing healthcare to people on the move through a flexible network of mobile clinics.
Canadian nurse Amy Nyland blogs from Lankien, South Sudan: 'We're seeing a steady increase in cases of malnutrition'
Amy is a nurse from Canada. She blogs about packing up her life at home to join the 300 people working at the MSF hospital in Lankien, in the north of South Sudan. In her latest post, she describes the challenges that emerge from lack of access to adequate food and clean water. 
"As predicted by the national staff, we are seeing a steady increase in cases of moderate and severe malnutrition, starting with infants. This time of year is known as the "hunger gap". It is also incredibly dry, and finding clean water is an impossible task for many."
'If you cry for one child, you'd cry all day': A Canadian MSF nurse on delivering emergency care in a South Sudan protection camp
Canadian nurse Jaime Wah recently returned from the Bentiu Protection of CiviliansCamp in South Sudan, where MSF is providing medical care to more than 100,000 people trapped by violence and conflict. She tells a story of challenge and hope amid a deadly malaria outbreak.
Related News & Publications