UPDATE: On June 2, a helicopter delivering humanitarian aid crashed in Sindhupalchowk district, Nepal. Médecins Sans Frontières/Doctors Without Borders (MSF) regrets to confirm the death of three of its staff members in this crash. The team members were delivering much-needed medical and humanitarian assistance in Sindhupalchowk district when the accident occurred. MSF extends its deepest condolences to the families and friends of our staff, and to those of the pilot of the helicopter, who was also sadly killed.  We trust that the privacy of the families will be respected at this difficult time, and we continue to offer our support to all affected staff and their families.
From May 15:
Nepal has been hit by two earthquakes in less than three weeks, killing thousands, injuring tens of thousands, and leaving millions more with the burden of rebuilding their lives. Doctors Without Borders/Médecins Sans Frontières (MSF) teams, who were already on the ground soon after the first tremor, continue working to reach and assist people affected. The priority remains those spread across remote mountain villages who have borne the brunt of the earthquakes and remain isolated from help.
MSF teams mobilized shortly after the first earthquake hit on April 25, conducting medical activities and distributing aid by helicopter to people in isolated villages. Those teams were able to respond almost immediately following the second earthquake on May 12. In remote villages like Singati, Marbu, Yanglakot and Lapilang, MSF has evacuated patients in critical condition to hospitals in Kathmandu. The organization is now conducting assessments following the second earthquake in order to re-adjust its assistance according to the needs that have arisen from the two quakes.
"In some areas, there has been up to 90 per cent destruction," said Dan Sermand, MSF's country director in Nepal. "Hospitals, and health centres have been damaged by the two quakes, leaving many people with no access even to the most basic healthcare. Up until yesterday, there were still landslides ongoing in some mountainous areas that we assessed. In some areas, whole villages have now been brought down, compounding an already dire situation, as many people had already lost their homes in the first earthquake."
Healthcare
In many districts, hospitals and health centres have been flattened, and those still standing have numerous cracks, making them susceptible to collapse. Bhaktapur hospital received a mass influx of wounded people after the second earthquake, prompting MSF to donate dressing kits and medicine.
In Dhading, Gorkha, Rasuwa, Sindhupalchowk and Nuwakot districts, MSF is providing medical and psychological services to people in need, some of whom had not received any medical assistance since the first earthquake hit.
In Dolakha district, the epicentre of the second earthquake, MSF attended to people in critical condition on the ground and evacuated those with severe injuries, including fractured skulls, to hospitals in Kathmandu for further medical attention.
In Arughat in Gorkha district, the MSF 20-bed inflatable hospital has been operational since May 8, and now sees patients affected by the two earthquakes, as well as people from nearby communities. It is being used for surgeries, emergency care, maternity services, and a mental health program. MSF is additionally working with the Ministry of Health to offer outpatient service, and supporting drug supply, medical training and the referral system for the hospital. An average of 100 patients are treated per day in the outpatient department, mainly suffering from respiratory tract infections, diarrhea, and wounds sustained from the earthquake. In the emergency room, MSF is treating an average of 15 patients per day mainly suffering from fractures and wounds. In maternity, the first baby was born this week on Tuesday.
"Most of the health facilities in Gorkha district have collapsed and the Arughat hospital is helping provide the much-needed secondary healthcare in the area. There are people who tell us they have walked for five days to the Arughat hospital. This goes to show just how severely the earthquakes have destroyed the healthcare system," said Dr. Manangama Guyguy, MSF's medical coordinator in Nepal.
MSF has started providing mental health services and psychosocial sessions in villages in Nuwakot, Gorkha, Rusuwa and Sindhupalchowk districts. In the Arughat hospital, MSF is also providing psychological care to patients and local staff who have been traumatised by the earthquake.
Shelter and Food
Aside from healthcare, shelter was already a major need before the second earthquake. The situation is now worse.
"My house was cracked in the first earthquake; the second earthquake finished it. I'm broken, I have lost my property and my cattle are no more, but I'm happy that my family was not in the house when this happened. They were in a displacement camp for fear of the house collapsing. And they were right," said Rajkumar Pakhrin, MSF's administration assistant from Mirge village in Dolakha District.
MSF teams have distributed over 2,300 shelter and hygiene kits in 20 of the most affected villages across Rasuwa, Sindupalchok and Gorkha districts. Teams have also begun distributing reconstruction material such as iron sheets and nails in some villages of Dhading, Sindhupalchowk and Rasuwa districts.
Food, mainly rice and high-energy biscuits, has been distributed in Rasuwa Sindupalchok and Dhading districts.
Water and Sanitation
MSF has installed water supplies and is building latrines in Chuchibati camp in Kathmandu. Bladder tanks have also been set up in some villages in Rasuwa district. The team also provided the communities of Gumpatang, Tembatang and Nimlung of Sindhupalchowk district with pipes and tanks to restore their gravity water system.
Transport challenges
Air remains the only means of transport to reach mountainous areas where roads have been damaged or blocked. Since large helicopters cannot land in remote villages, where most of MSF's work is concentrated, small helicopters are the only option. These have very limited flight-capacity, which restricts the amount of cargo that can be transported.
"In a few weeks the monsoon season starts and people can no longer live outside," said Peter Paul de Groote, MSF's emergency coordinator in Nepal. "By then the remote areas will be very difficult to reach. The window of opportunity is now. We are making every effort to get shelter to these villages before this window closes." 
From May 13, 2015:
Shortly after an earthquake hit Nepal on May 12 — just two weeks after an earlier earthquake on April 25 — MSF quickly started assessing needs in the affected areas, most of which are once again in the remote mountain districts.
An MSF team that headed for Dolakha district witnessed first-hand villages being destroyed by the earthquake and landslides. Dolakha district was the epicentre of yesterday's 7.3 magnitude earthquake.
In Charikot, a village at the edge of the mountain, buildings had collapsed. The village of Sailungeshwar was affected by many landslides, some of which were ongoing at the time of the assessment. 
MSF is assessing the needs in the affected areas while providing medical and relief assistance to the populations in need including those affected by the April 25 earthquake.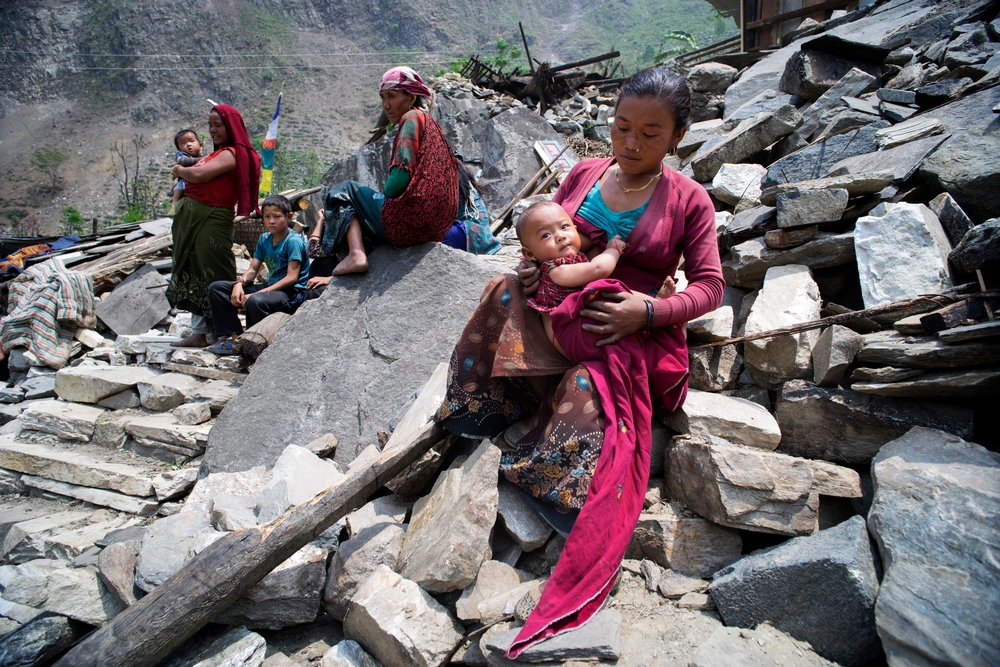 From May 12, 2015:
A second earthquake today hit Nepal, this time with an epicentre 80 kilometres east of Kathmandu, in Dolakha district. Teams from Doctors Without Borders/Médecins Sans Frontières (MSF) are conducting assessments in the affected areas, including Dolakha itself. In the Charikot area of Dolakha district they have seen villages destroyed by this second quake.
An additional MSF team is conducting an assessment in Bhaktapur, east of Kathmandu, while other MSF medical teams have divided and are visiting various hospitals in Kathmandu ready to intervene immediately if necessary.
This comes as the Nepali population struggles to recover from the loss of life and substantial damage that followed the earthquake of April 25 in which over 8,000 people died.
"This complicates an already precarious situation. There is going to be more trouble accessing the affected areas. MSF is strengthening its emergency operations and re-assessing the needs of those affected by the current earthquake in order to respond accordingly and immediately," says, Dan Sermand, MSF's Country Director in Nepal
For the last two weeks, MSF teams have been providing medical assistance and distributing food and shelter to remote areas impacted by the previous earthquake. MSF has also set-up an inflatable hospital in Arughat in Gorkha district, which is running and serving the population affected by that previous disaster.
From May 5, 2015:
On April 25, a 7.8 magnitude earthquake struck Nepal, with its epicentre in Gorkha district, 200 kilometres northwest of the capital, Kathmandu. As of April 30, the government of Nepal reported 7,365 deaths and over 14,000 injured. More than 130,000 houses were destroyed and 85,856 houses damaged. The country's only international airport in Kathmandu is heavily congested due to the arrival of numerous international organizations bringing in aid. Tremors were felt strongly in northern India, where to date a reported 72 people have been killed and 237 injured in the states of Bihar, Uttar Pradesh and West Bengal. Casualties are expected to rise. In Tibet, the death toll currently stands at 17.
Since April 29, Doctors Without Borders/Médecins Sans Frontières (MSF) medical teams in Nepal have started reaching people spread across isolated mountain villages by helicopter and on foot. The districts of Dhading, Gorkha, Rasuwa and Sindhupalchowk were hit hard on April 25 by a 7.8 magnitude earthquake, and little or no assistance has reached many villages.
While the most critically injured people were evacuated in the days immediately after the earthquake, those remaining have been trapped in their villages, as roads and walking tracks have been cut off by avalanches and landslides. MSF medical teams are flying by helicopter to assess the needs and provide assistance in these remote villages. Between April 29 and May 4, MSF's medical teams saw people in more than 15 villages.
May 4: The 20-bed inflatable hospital being set up by MSF in Arughat, northwest of Kathmandu, will admit it's first patients within the next couple of days.
On May 3, an MSF team also set up a temporary clinic in the area of Chhapchet, in Dhading district, and began providing basic healthcare and minor surgical interventions. The team will work to spread the word in the surrounding villages that people can now come to the clinic to receive care. On May 4, another team landed in Lapubesi in Gorkha district, and will stay for three days to provide medical assistance in the area.
"We are seeing people in need of basic healthcare, as well as a number of people with wounds sustained in the earthquake that have now become infected," says Anne Kluijtmans, an MSF nurse. "We are cleaning and dressing wounds, as well as distributing antibiotics and pain medication. We have also treated cases of pneumonia, including among children."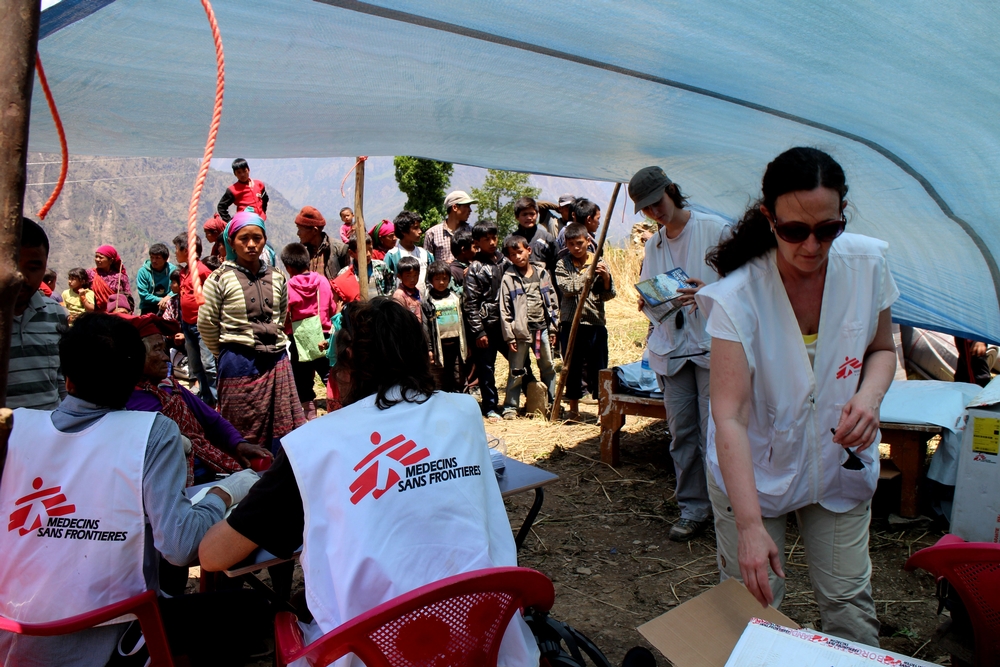 Food, shelter and mental-health needs
With many villages completely or partially destroyed, the most significant need is for shelter, while some of the more isolated villages in the mountains are facing shortages of food. MSF teams have started distributing high energy biscuits and blankets in Kyanjin Gumba in Rasuwa district, and in Nampa Golche in Sindhupalchowk district. They have also provided more than 500 shelter kits in Gorkha district. Our teams are continuing to look into effective ways to transport both food and shelter materials into the mountains, where temperatures at the higher altitudes are dropping below zero at night.
MSF staff are also seeing significant mental-health needs stemming from the traumatic experience of the earthquake, and we are adding mental-health workers to our teams in order to start providing psychological first aid in some of the most affected villages.
Hospital support
MSF assessed the situation in a number of the main hospitals in and around Kathmandu that have been treating injured patients. While hospitals were overwhelmed with patients in the first days after the earthquake, the pressure has reduced significantly and the phase for treating patients with acute trauma has passed. People are now waiting for more minor or follow-up surgeries, as well as treatment for regular illnesses. MSF has made donations to some hospitals in the capital. In Kathmandu and Pokhara, the authorities responsible for emergency management have mobilized a unit of local nephrologists to treat crush syndrome cases. This has contributed effectively to saving lives.
An MSF surgical team provided support for three days at the hospital in Bhaktapur, on the outskirts of Kathmandu, in order to help the staff operate on waiting patients. In the town of Arughat, in Gorkha district, MSF is setting up a 20-bed inflatable hospital to initially provide treatment for wounded.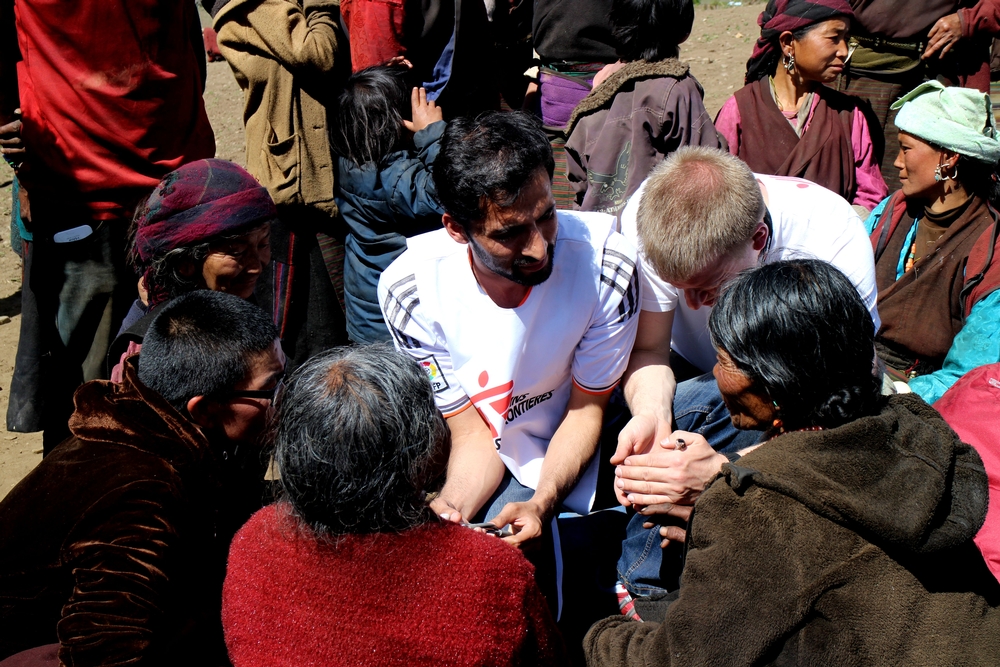 Challenge to reach those in most need
Logistical challenges, including congestion at Kathmandu airport and the fact that the majority of affected areas are inaccessible by road, have hampered MSF's efforts to scale up activities quickly.
"Our priority is to reach people in places where no one else is going and who have not received assistance," says Dr. Prince Mathew, who was one of the first MSF staff members to arrive in the country. "So it has been a huge challenge logistically to get the necessary supplies in through the congested airport, and secure the air transport we need to be able to provide medical assistance and deliver shelter and relief materials to the people in most urgent need."
MSF now has more than 120 staff members in the country and has flown in more than 80 tons of supplies, including the inflatable hospital. In addition to flying supplies into Kathmandu, MSF teams working across the border in Bihar state in India, were able to quickly transport shelter, hygiene and kitchen kits by truck to Gorkha, 200 kilometres northwest of Kathmandu and close to the epicentre of the earthquake.
"We will increase the number of clinics as quickly as possible," says Dr. Mathew. "Our teams also plan to distribute tons of shelters, hygiene materials and cooking equipment. With the monsoon season approaching, we're worried that the window of opportunity to reach people in these areas is rapidly closing."
How you can help
MSF teams are on the ground in Nepal, providing emergency assistance in response to the April 25 earthquake. If you would like to help MSF deliver essential care to people affected by this and other disasters, please visit our fundraising page. 
Your donations will go directly to MSF's general emergency fund, which enables us to act immediately when crises occur anywhere in the world, and has made our rapid response and ongoing efforts in Nepal possible.

From May 1:
Médecins Sans Frontières/Doctors Without Borders (MSF) has teams on the ground working to assist those affected by the recent earthquake in Nepal. More personnel and supplies are on the way.
An MSF team (doctor, nurse, logistician) began mobile clinic activities by helicopter in the mountains to the north of Kathmandu, including Langtang valley and Rasuwa district. They saw around 30 patients and also assessed the needs in a number of villages in the area.
 

A surgical team (surgeon, anesthetist, nurse) began supporting the hospital in Bhaktapur. They have managed fivemajor surgeries so far.

 

A mobile medical team is visiting remote villages in the mountains to the north-west of Kathmandu to provide consultations and assess further needs.
 
A surgeon is assessing the the capacity of the referral hospital in Bharatpur, south of Ghorka, which has been receiving patients following the earthquake.
 
An MSF team is continuing its assessment of a location to set up the inflatable hospital that arrived by cargo plane on Wednesday night.
 
A nurse and a doctor are providing support in the medical evacuation of some patients from Larpak in Ghorka district.

Update April 30: MSF Cargo flight carrying the inflatable hospital arrived in Kathmandu, MSF teams carry out aerial assessment of the district of Gorhkha

MSF Emergency Coordinator, Eric Pujo gives an update on MSF's relief efforts in Kathmandu, Nepal. April 29, 2015

WATCH: MSF Canada's Executive Director Stephen Cornish speaks to CTV News: Canada AM about our earthquake response in Nepal. April 28, 2015

Earthquake in Nepal - Medical Focus: Crush Syndrome 
Canadian MSF doctor Tim Jagatic describes the dangers and challenges of treating patients with crush syndrome.

From April 30:
Overnight, MSF's first cargo plane has been able to land in Kathmandu and all the contents have been cleared through customs. This cargo plane has come from France containing four inflatable tents to construct a field hospital, as well as the necessary medical supplies. The team is identifying the most appropriate location to construct the hospital where the needs are significant and where we can have the biggest added value. 
 
A surgical team will start providing support to the hospital in Bhaktapur district, a heavily affected area east of Kathmandu. 
 
A three-person team (medical doctor, nurse, logistician) has left Kathmandu in a helicopter to begin mobile clinics in remote villages in the mountainous areas of Sindhupalchowk district, which have been heavily hit by the earthquake and where little or no assistance has been provided.
 
On Wednesday, a team was able to get more than 200 shelter kits to the village of Gumba in Ghorka district.
 
On Thursday, further assessments are being carried out in hospitals in Kathmandu and Bhaktapur to evaluate the capacity for management of "crush syndrome."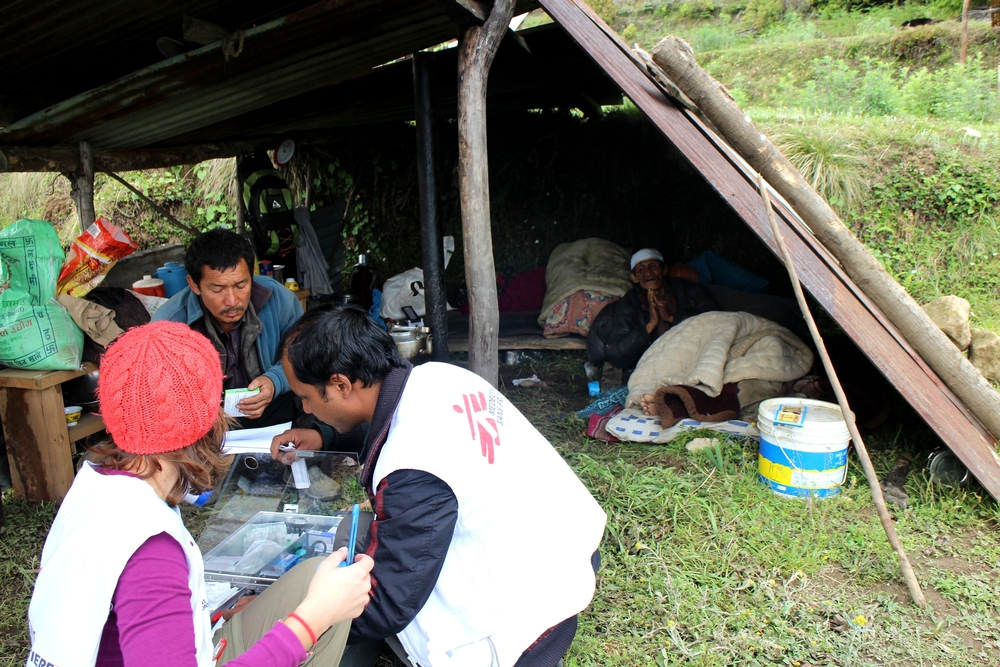 A three-person MSF team began running mobile clinics by helicopter to remote villages in the mountains to the north of Kathmandu. Many villages have been completely or partially destroyed, and people are living under makeshift shelters. The earthquake and subsequent avalanches have cut off access to many villages so people are stuck with no way out.

From April 29:
MSF currently has 61 staff members on the ground in Nepal.
 
On Tuesday, a team assessed the situation in Gorkha District Hospital, which has suffered damage from the earthquake. The in-patient department is destroyed. On Wednesday, a truck carrying a rapid surgical intervention kit left Kathmandu for Ghorka (200 kilometres north-east) now that the road has been re-opened. The surgical team is on their way to Ghorka to set up and begin responding to surgical needs ine area.
 
On Tuesday, a team assessed the Tudikhel makeshift camp in the centre of Kathmandu. The water and sanitation situation is concerning, with people having limited access to clean drinking water and the public toilets overflowing. In terms of medical needs at this camp, a team of doctors from Bir hospital (located opposite the camp) have set up a makeshift consultation area and are managing primary health care needs. Many of the people in the camp are from in and around Kathmandu, but there are also a number of migrant workers who can no longer stay in the temporary accommodation they normally have in the city. There are others in the camp who have come from outside Kathmandu after their villages were destroyed in the earthquake. MSF is looking into the water and sanitation situation in the camp urgently. 
 
On Tuesday, a team assessed the needs and capacity in four hospitals in Kathmandu, with a focus on trauma and nephrology departments (to understand the capacity to deal with "crush syndrome"). Generally these hospitals are overstretched after dealing with influxes of wounded following the earthquake, and are also trying to continue to deal with regular patients with chronic illnesses and other needs. Kathmandu Teaching Hospital has been receiving an increased number of patients requiring dialysis — mostly chronic rather than people with crush syndrome — coming from other hospitals. There are currently 200 patients on their list needing dialysis, with only eight machines to meet the demand. MSF made a donation of wound-dressing kits to two hospitals and is looking into options for supporting specific hospitals in Kathmandu according to the need.  
 
On Tuesday, an MSF team returned to a makeshift camp in Bhaktapur (40 km east of Kathmandu), where more than 1,500 people are staying. They are facing a difficult situation in terms of water and sanitation, with people collecting rain water and lacking latrines. They have yet to receive assistance and have either lost their homes in the earthquake or are too scared to move back to their homes in case of aftershocks. MSF is looking into the water and sanitation situation in the camp urgently. The team also donated dressing and first aid materials to the hospital in Bhaktapur. 
 
On Tuesday, a surgical team arrived in Kathmandu and will be deployed as soon as possible with a mobile field hospital, which is en route to Kathmandu. 
 
From April 28:
MSF currently has approximately 38 staff on the ground in Nepal, based in Kathmandu and Ghorka.
 
Kathmandu has experienced relatively low-level destruction, with the vast majority of buildings and houses still standing. However, many people are sleeping outside in tents and makeshift shelters as they are afraid to be inside due to aftershocks. This is a concern given that storms are expected over the coming days.
 
MSF does not yet have a full overview of the needs, especially outside Kathmandu in areas that are only accessible by helicopter. Teams are focusing on accessing and assessing the situation in more remote and isolated areas outside Kathmandu. They are doing rapid assessments so that we can begin operations immediately and target our response according to the needs. Our priority is to reach people who have not yet received any assistance.
 
From first aerial assessments, the damage seems to be quite significant in a number of villages in the mountainous region. Due to the destruction, there is a need for relief items such as shelter, hygiene materials and cooking equipment.
 
On Monday, April  27, an MSF team assessed the situation in two main hospitals in Kathmandu (Bir Hospital and Teaching Hospital). Both have been receiving wounded and are now lacking supplies. Patients are sleeping in tents in the grounds of Bir hospital.
 
An MSF team did an aerial assessment by helicopter of areas to the east, north and west of Kathmandu. Of approximately 65 villages viewed, around 45 had visible damage or were destroyed. These areas are isolated and only accessible by helicopter. One village, Warpak, has suffered extensive damage and the team plans to respond there. Teams arrived by road from Bihar (India) into Ghorka The town itself has not suffered damage.
 
An MSF team assessed the situation in Bhaktapur (east of Kathmandu), which has experienced destruction. The hospital there does not have a functional operating theatre and all cases are being referred to Kathmandu. People are staying in makeshift shelters in the open air, and the sanitation conditions are concerning, with no latrines and only scarce water.
Relief items (1,000 shelter kits, 500 hygiene kits, 500 kitchen kits) are on the way by road from Bihar (India) to Ghorka. These will be distributed to affected people in villages outside Ghorka.

Initial briefing of the first MSF surgical team to arrive at the Kathmandu airport in Nepal.
From April 27:
One 17-member team is in Kathmandu. They have carried out an initial assessment of the damage by helicopter.
 
One team is expected in Kathmandu later today after flying in from New Delhi. They were initially rerouted back to India after aftershocks prevented the plane from landing. 
 
One team has reached Gorkha, 70 km northwest of Kathmandu, after travelling by road from Bihar state in India. Three trucks containing essential relief items have also crossed the Nepalese border and are on their way to Gorkha.
 
An 11-member surgical and medical team is on its way to Kathmandu from Brussels with a "rapid intervention surgical kit" which will enable them to set up a surgical unit and start performing surgical operations within the vital 72-hour window after the earthquake struck. The team will also travel to the districts of Tanahu, Lamjung and Gorkha, with the aim of providing support to hospitals, running mobile clinics, distributing essential relief items (blankets, hygiene kits and shelters), and providing water and sanitation, according to people's needs.
 
A five-member team (including a surgeon) left Japan today for Kathmandu.  
 
An inflatable hospital and supplies of drugs will be dispatched from MSF's supply depot in Bordeaux, France on April 28.
 
Thirty tons of emergency supplies were dispatched from MSF's supply depot in Ostende, Belgium on April 27.
 
A team of medics and water and sanitation specialists left Amsterdam for Nepal on April 27.
 
Four teams left Bihar state, India, on April 26. They are currently at the Nepalese border on their way to the worst-affected areas.
 
A three-member team (including a midwife) is due to arrive in Pokhara on April 27.
 
A three-member team (including a midwife and an anaesthetist) left Paris on April 27.
From April 26:
Four MSF teams departed this morning from Bihar state in India and are currently at the border with Nepal clearing with authorities before heading to the areas affected by the earthquake
A surgical team composed of eight highly skilled staff from Brussels is en route to Kathmandu. The team will set up a surgical unit as well as run mobile clinics aimed at reaching affected people in remote areas. 
One MSF team from Delhi, India is now headed for Kathmandu after initially being re-routed back to India due to aftershocks. The team is expected in Kathmandu later today and will start providing medical assistance. 
One team of medical and logistical staff is headed for Kathmandu Valley from Japan. 
More emergency supplies are being sent from Bordeaux, France today. 
Another MSF team from Amsterdam will depart today with additional medical and water and sanitation capacity.
April 25: MSF announces initial response to earthquake in Nepal
In the video below, the MSF team in Brussels prepares to depart for Kathmandu. The team is bringing a Rapid Intervention Surgical Kit (RISK) to allow it to establish a surgical unit, which will enable them to start performing much-needed surgeries within 72 hours.The team is planning to focus its assessment on three districts in Nepal: Tanahu, Lamjung and Gorkha. Another 30-ton charter will depart from Ostende (Belgium) on April 27.
Background 
A 7.8-magnitude earthquake shook the Kathmandu Valley before noon on Saturday, April 25. Although the extent of the damages is still unknown, initial reports say houses and buildings collapsed in Kathmandu and surrounding areas. Tremors were also strongly felt in northern India, in the states of Bihar and Uttar Pradesh
Related News & Publications