'This is the power of humanitarian action: By refusing to accept that some people should be abandoned to their suffering, it becomes possible to find a way to bring that suffering to an end. This is as true for situations of conflict such as Syria as it is for outbreaks of disease like Ebola.'
Stephen Cornish
Executive director, MSF Canada
This article was originally published in edited form on Huffington Post.
From my vantage point as executive director of Doctors Without Borders/Médecins Sans Frontières (MSF) Canada, last year ended in much the same fashion as it began - that is to say with a complex and seemingly unsolvable transnational humanitarian crisis demanding our attention, testing our collective resolve and begging for a worldwide response.
Then, as now, emotional debates pitted domestic interests and concerns about security against the moral imperative to intervene. Then, as now, in the absence of apparent solutions or political will, many voices called for closed borders and a policy of containment rather than for collective responsibility and a comprehensive compassionate response. Ultimately, however, fear and misinformation subsided and hope, empathy and humanitarian action rose to the fore — and it is my hope that these will again persevere in the year to come.
The world's biggest crisis in 2016?
The conflict in Syria and the refugee crisis it has spawned is one of the biggest humanitarian emergencies facing the world at the start of 2016. With hundreds of thousands killed and millions displaced from their homes, the human impact of the war in Syria is already devastating, and it can often seem difficult to find reasons for hope.
But Syria also bears notable resemblance to a completely different crisis that we faced just 12 months ago -- one that, over the past year, we have managed to change from a story of fear and tragedy to one of hope for the future. When 2015 began, the Ebola outbreak in West Africa was an overwhelming humanitarian catastrophe: Thousands of people had died, and fear of the disease spreading to Western shores had placed unacceptable limits on the international response to the crisis. For most of the previous nine months, MSF and local healthcare workers had found themselves virtually alone on the front lines of the outbreak in Guinea, Liberia and Sierra Leone, and epidemic control efforts were hampered by false rumours, closed borders and an unprecedented, rapidly evolving situation on the ground.
Twelve months later, the epidemic has been declared over across West Africa and, at the time of this writing, only a few residual cases remain. While there continue to be incredible challenges — rebuilding local health systems destroyed by the outbreak will be difficult, and there are very real concerns around ongoing surveillance and future response capacities — one of the most significant crises we faced at the start of 2015 has been in many ways overcome. How was this possible?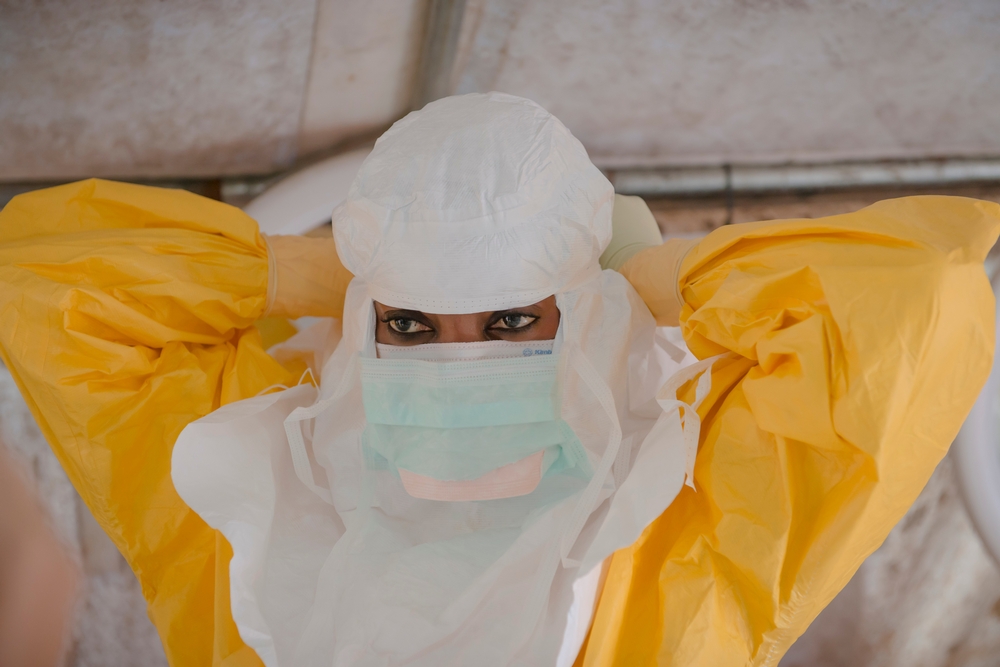 The Ebola crisis in West Africa was an overwhelming humanitarian catastrophe at the beginning of 2015.
Every human life is worth defending
There is no simple answer to that question. The fight against Ebola was carried out by the efforts of countless different actors: MSF medical teams and local caregivers, for example, delivered front-line care on the ground; government lab workers in countries such as Canada did essential scientific work; and the support provided by caring and concerned individuals around the world — who raised funds for relief efforts, petitioned their governments to take action and talked to their neighbours about the human impact of the outbreak — was crucial. But the thread running through all those factors — and, beyond Ebola, the crucial element underscoring our collective ability to overcome any crisis that threatens human dignity, health and wellbeing, no matter how seemingly complex or intractable — is a fundamental belief in, and commitment to, our shared humanitarian principles, which dictate that every human life is worth defending, protecting and treating with dignity.
That is why, despite there being no shortage of reasons to despair about Syria and other crises around the globe, we must start this new year with hope. There is no doubt that the situation in Syria is dire: In addition to the shocking number of people killed, fighting forces in Syria have developed ever more horrific ways to brutalize not only their opponents but the civilian population caught in the middle; health facilities have been bombed from the air with gore-inducing barrel bombs that maximize fear and destruction; and the millions who have fled from their homes are left to seek shelter in overcrowded refugee camps and displacement shelters — or with predatory human smugglers offering the faint hope of safety and protection in Europe.
But just as with Ebola — and every other similar crisis we have faced as a global community — we can mitigate the dreadful human toll created by the conflict in Syria if we retain our instincts for empathy and remain steadfast in our defence of fundamental humanitarian principles. We already see this in action: from the search-and-rescue ships launched by MSF and others to save migrants from drowning on the Mediterranean Sea, to the work done delivering healthcare in displacement camps, to the ongoing struggles we face simply trying to maintain functioning hospitals in the middle of a conflict zone. Sometimes these efforts seem incredibly small in the face of such large and overwhelming needs, but even a single hospital with one flickering light on is a defiant reminder that we value the human lives affected by any conflict.
Delivering essential medical care is an essential way to show those suffering under the war in Syria that they have not been forgotten.
Refusing to accept that some people should be allowed to suffer
This is the power of humanitarian action: By helping impartially according to need, and refusing to accept that some people should be abandoned to their suffering, it becomes possible to find a way to bring that suffering to an end. This is as true for situations of conflict such as Syria as it is for outbreaks of disease like Ebola. 
In some cases, acting on these principles can be easier than for others: When two earthquakes struck Nepal last spring, the world sprang into action. MSF was on the scene to deliver medical care within 24 hours of the quake, but we were also part of a much larger and immediate global response. Around the world, millions of people reacted immediately and selflessly to the plight of Nepal's victims, offering urgent help to people they had never met.
If we truly want to alleviate suffering, that same fundamental humanitarian instinct must be applied to complex, human-made emergencies like Syria as much as for natural disasters like the Nepal earthquake.
MSF works to deliver care to people in need in more than 60 countries, and in many places we face overwhelming challenges: horrific political and sectarian violence in Central African Republic; mass displacement, fighting and suffering amid South Sudan's brutal civil war; homes and hospitals under attack in Yemen. In Afghanistan, where fighting between the Taliban and Western-supported government forces continues to wreak havoc on a highly vulnerable civilian population, U.S. warplanes last October brazenly violated international humanitarian law and bombed an MSF surgical hospital in Kunduz, killing 42 people and depriving tens of thousands of people of access to essential lifesaving care.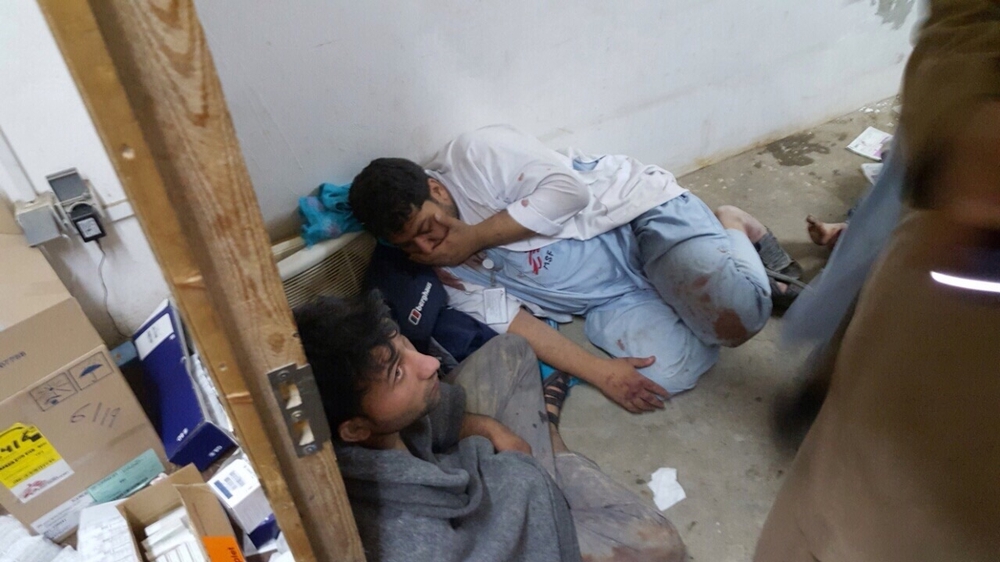 Staff members take shelter during U.S.-led airstrikes against MSF's hospital in Kunduz, Afghanistan, last October.
Principles translated into real action
This last incident was an unprecedented and unconscionable atrocity committed against MSF, our medical personnel and the patients we care for -- but our response to it must move beyond anger and return again to fundamental humanitarian principles and action. That is why we are calling for an independent investigation according to the internationally agreed upon rules of war: Targeting any hospital in a time of conflict is a violation of the Geneva Conventions, which were created — and globally adopted — to minimize the human and civilian suffering caused by war and conflict. The Conventions are part of international humanitarian law, which provide the very framework that enables our core principles — of empathy, compassion and belief in the right to universal care — to be translated from words and ideas into direct and vital action.
These principles and a population's right to assistance must not be forsaken. They are what drove us to persevere in the face of world-wide hysteria and the fear of Ebola in West Africa last year; they are what sent us to Nepal, Pakistan, and other places afflicted by natural disasters; they are what sent our teams to crisis zones everywhere from central Africa to the Arabian peninsula, Asia, Europe, the Americas and beyond. Our principles compelled us to urgently launch search-and-rescue ships on the Mediterranean Sea, to intervene directly along migration routes around the world, and to assist people fleeing from violence, fear and misery by providing them with essential, lifesaving care. It is these fundamental humanitarian values that make us shout to all who can hear that it is unacceptable that we should cross the world to save the lives of people in conflict zones, only to see them left to die for lack of safe passage to Europe or elsewhere.
Together we can enter 2016 as committed and principled humanitarians — and in so doing, face up to our shared responsibility in front of crises to come. In a world awash in suffering and inequity, our shared ideals and impartial lifesaving action can be a balm for the wounds of those who suffer needlessly when political solutions are slow to be found. We don't pretend that delivering assistance and defending humanitarian principles in the face of such adversity will ever be easy, but nor do we accept that there are any crises that, for lack of apparent solutions, should be written off as hopeless.
Stephen Cornish is executive director of Doctors Without Borders/Médecins Sans Frontières (MSF) Canada.
Related News & Publications